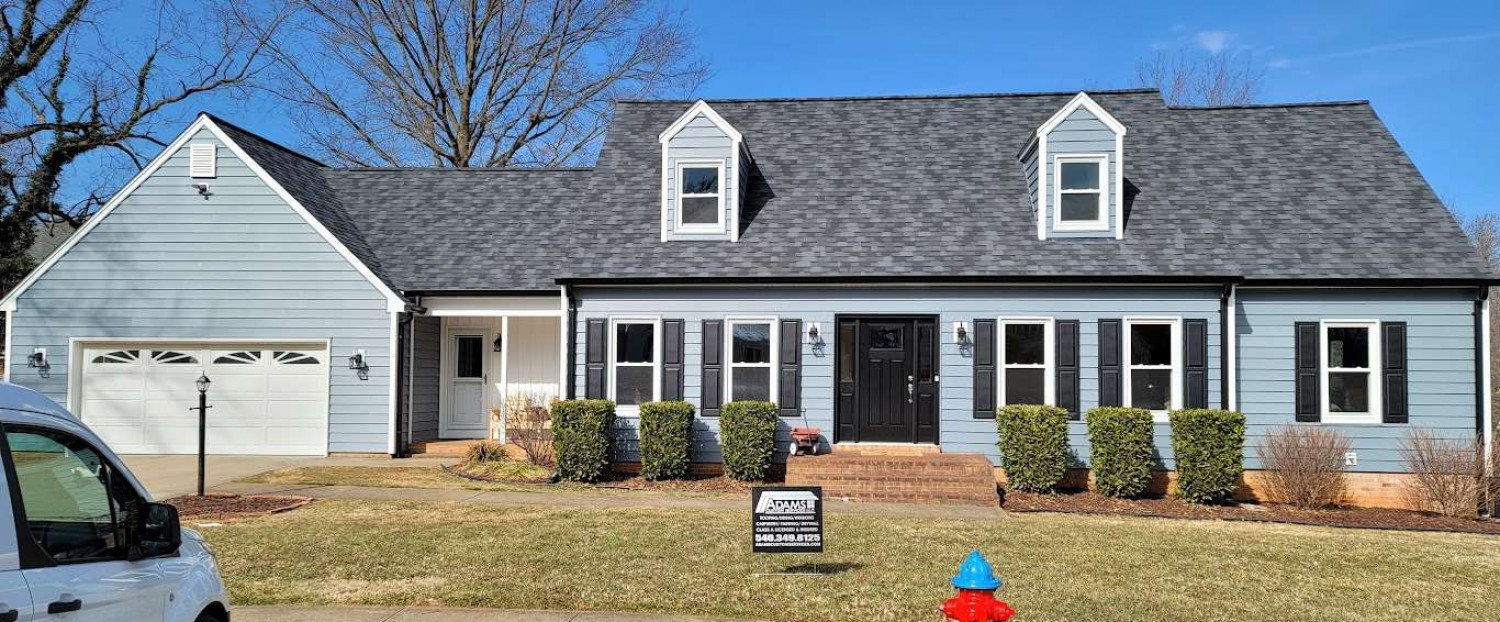 ENHANCE THE CURB APPEAL AND ENERGY EFFICIENCY OF YOUR HOME
Depend on us for siding replacement services in and around Culpeper, Warrenton, VA and Fauquier and Culpeper county
We offer several different material types, styles, and colors of siding when the time comes to install siding on your existing or new construction home.

Types of siding we install:

We install pine, cedar, mahogany, and many other types of wood siding. Wood siding is beautiful, provides decent energy efficiency, and has countless options for details to enable you to get the look you're trying to achieve on the curb appeal of your home. Wood siding does however require a lot of maintenance and upkeep. If you like the look of wood, but don't desire the time and cost in the upkeep of wood, we have other options.

We offer installation of Hardie siding and trim which gives you the similar characteristics of wood, without the upkeep and maintenance. We also have some other products we install for historical situations such as Boral siding and trim, however at this time, Boral does not come in a pre-finished product like Hardie. If budget is a determining factor, we have another option as well.

We typically install Certainteed vinyl siding products and accessories. We have a good, better, and best that we offer to our customers depending on your budget and also offer installation of insulated vinyl siding, if you're trying to gain maximum energy efficiency as well as cut out outside noise.
Learn more
How does a typical siding replacement process work?:
Give us a call to set up your free (depending on location) no pressure consultation to go over which product would fit your budget and needs the best.
Receive your written estimate with a detailed scope of work
Verify measurements, scope of work, material selections, and collect deposit to get materials on order.
Materials are typically delivered to your home a few days prior to your scheduled installation. Our field supervisor will accept material delivery and verify to make sure order is complete and correct. At this time, we typically drop off one of our dump trailers for disposing of any debris.
On installation day, our field supervisor will meet with our crew and crew leader to get work started and go over any details or special notes. A typical siding project takes roughly 3-5 days, depending on size of home, type of product(s) being installed, if removing old siding, etc. We have had project that take several weeks to complete that have greater detail.
Once the work is complete, our field supervisor will go over the project and check to ensure everything is complete and done correctly as well as make sure all nails and debris are picked up and disposed of properly. After, our field supervisor will walk with you around the house and go over any questions or concerns you may have to make sure you are satisfied with the work performed as well as the cleanup around your home.
What's typical of a siding replacement?
With every siding replacement, we will remove your homes existing siding material or install a leveling board to go over top of your existing siding. It varies depending on what type of existing siding you have and what type of material you decide to change to. Typically with every siding replacement, you can expect the following:
Inspection of wall sheathing after removal of old siding (if applicable). If replacement is required, this is typically an additional cost.
Installation house wrap
Installation of siding and accessories (Example: Vinyl siding typically receives new starter, J Channel, Inside/Outside corners, light blocks, etc.)
Additional options and services we offer that tend to go along with siding replacement and/or installation:
Fascia replacement
Soffit replacement
Porch ceilings, beams, and columns/rails
Shutter replacement
Gutter replacement
If you're looking for durability and very low maintenance, we've got you covered. We offer installation of James Hardie siding and accessories.
At Adams Custom Services, we install insulated vinyl siding, deluxe vinyl siding, and economy grade vinyl siding to meet your desire and budget. There are a wide variety of styles and colors available to meet your needs
We offer installation of cedar siding, pine siding, western red cedar siding, as well as engineered wood siding.